Health & Safety
Health & Safety is at the forefront of every project that John Cradock Ltd undertake.  We invest heavily to ensure that our people and our systems are capable of delivering a best in class Health & Safety performance, regardless of the size or type of project.  All of our direct staff, and all of our specialist subcontractors are committed to implementing our award winning Health & Safety systems on site.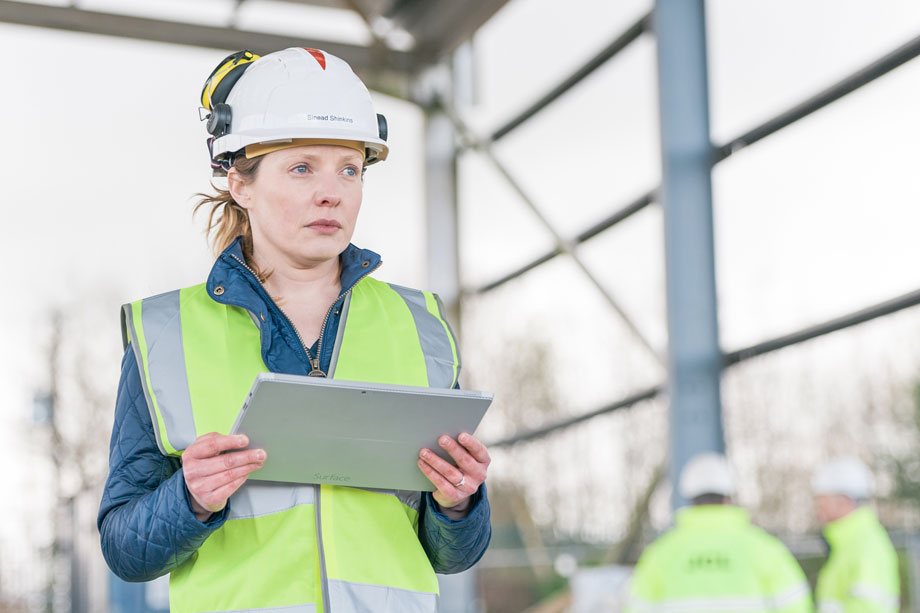 Overview of Systems & Training
Our EHS Manager, Sinéad Shinkins, has overall responsibility for the development and implementation of the JCL Safety Management System with assistance from our 2nr safety advisors.  Our Health and Safety policy is centred around the principle that:
"We believe that our people are our greatest asset; and that, the wellbeing of those people is of the utmost importance so that they can enjoy life to the full and contribute to the overall performance of the company"
We consider every project on its own merits and tailor the Health & Safety plan to suit the specific challenges and requirements of the Client, the project and the site.  As a minimum, on every project:
Site Specific Health & Safety Plan.
Site Specific Health & Safety Statement.
Detailed Method Statements & Risk Assessments for all works elements.
Safe System of Work Plans completed by Site Operatives for all tasks.
Minimum monthly audits by EHS Manager.
To enable our people to implement our systems to the full, and thus deliver the safest construction experience for our Clients we put substantial focus on training and development
All Site Managers have formal Health & Safety Training including CIF/IOSH Managing Safety in Construction, CSCS Signing, Lighting & Guarding, CSCS Location of Underground Services, Occupational First Aid.
All operatives (whether direct or subcontractor staff) have as a minimum Safepass, Manual Handling, Abrasive Wheels and the appropriate CSCS qualifications for the tasks they are asked to perform.
All site operatives attend monthly tool box talks.
Accreditations & Awards
Our Health & Safety Management System is
COVID- 19 Pandemic
John Cradock Limited has followed all official Government and HSE guidelines in relation to the operation of its sites in recent weeks and has had the welfare of its staff and contractors as its top priority.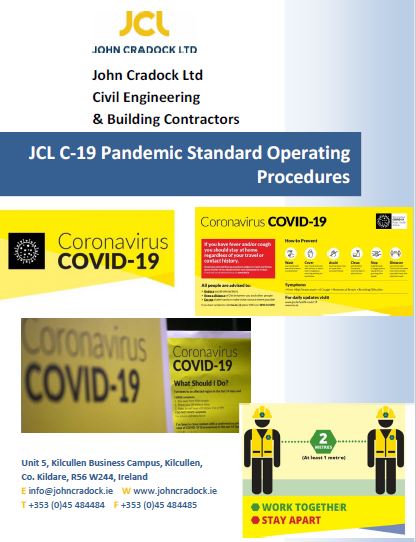 It is paramount that construction projects operating during the Coronavirus (COVID-19) pandemic ensure they are protecting their workforce and minimising the risk of spread of infection. John Cradock Ltd are mindful of the best available guidance, nationally and internationally, that serves as a guide for the management of COVID-19 on our construction sites for the duration of the pandemic. With this in mind John Cradock Limited  have developed a Safe Operating Procedure (SOP) which shall be implemented on our sites for the duration of the pandemic.
The procedures set out in this document will be implemented as part of the site-specific Construction Stage Health and Safety Plan. All information provided within this document is not intended to supersede applicable regulations, nor provide medical or legal advice. Government Guidance is changing as knowledge of the COVID-19 virus increases. This SOP is a dynamic document which will be updated as required as and when new guidance is provided by the HSE and WHO in relation to the prevention of COVID-19 on our sites.
Our SOP can be viewed on the link below: